Vehicle Features
Pagani Huayra Hermés Edition : A $1.4 million beauty at The Peterson Auto Museum
Last week I got to take a short day trip down to LA. It's been a few years, pre pandemic, since I've been able to check out the amazing collection of cars at the Petersen Museum. I was not disappointed! With so many amazing vehicles in the building I really didn't want to share just a dump of photos all at once. Instead I want to focus on a few stand out vehicles over the next month or so. I think you'll appreciate as much as I did. First one that really just caught my eye with the beautiful color, carbon fiber-titanium composite and styling details added by French luxury fashion house Hermés it's easy to see why. This 2016 Pagani Huayra Hermes Edition boasts a Turbocharged 6.0 liter Mercedes-AMG V-12 engine. With over 700hp it does 0-62 in 2.8 seconds with a top speed of 230mph! Not bad for it's $1.4 million price tag with all the luxury additions inside and limited quantity of only 100 Huayra models in the whole world.
From the exhibit : The Huayra, released in 2011, was the first Pagani to be approved for global sale. The Huara includes tan active aerodynamic system in which wings on all sides of the car activate or deactivate based on the driving conditions. It's exotically styled body, built from a special carbon fiber-titanium composite, was inspired by air and wind. Demonstrating the high degree of personalization afforded to hypercard buyers, the owner of this Pagani Huayra collaborated with French luxury fashion house Hermes to develop a unique design for the vehicle. Bolstering its association with the fashion house's signature sale, Huayra is outfitted in the same type of leather Hermes uses to construct it's handbags.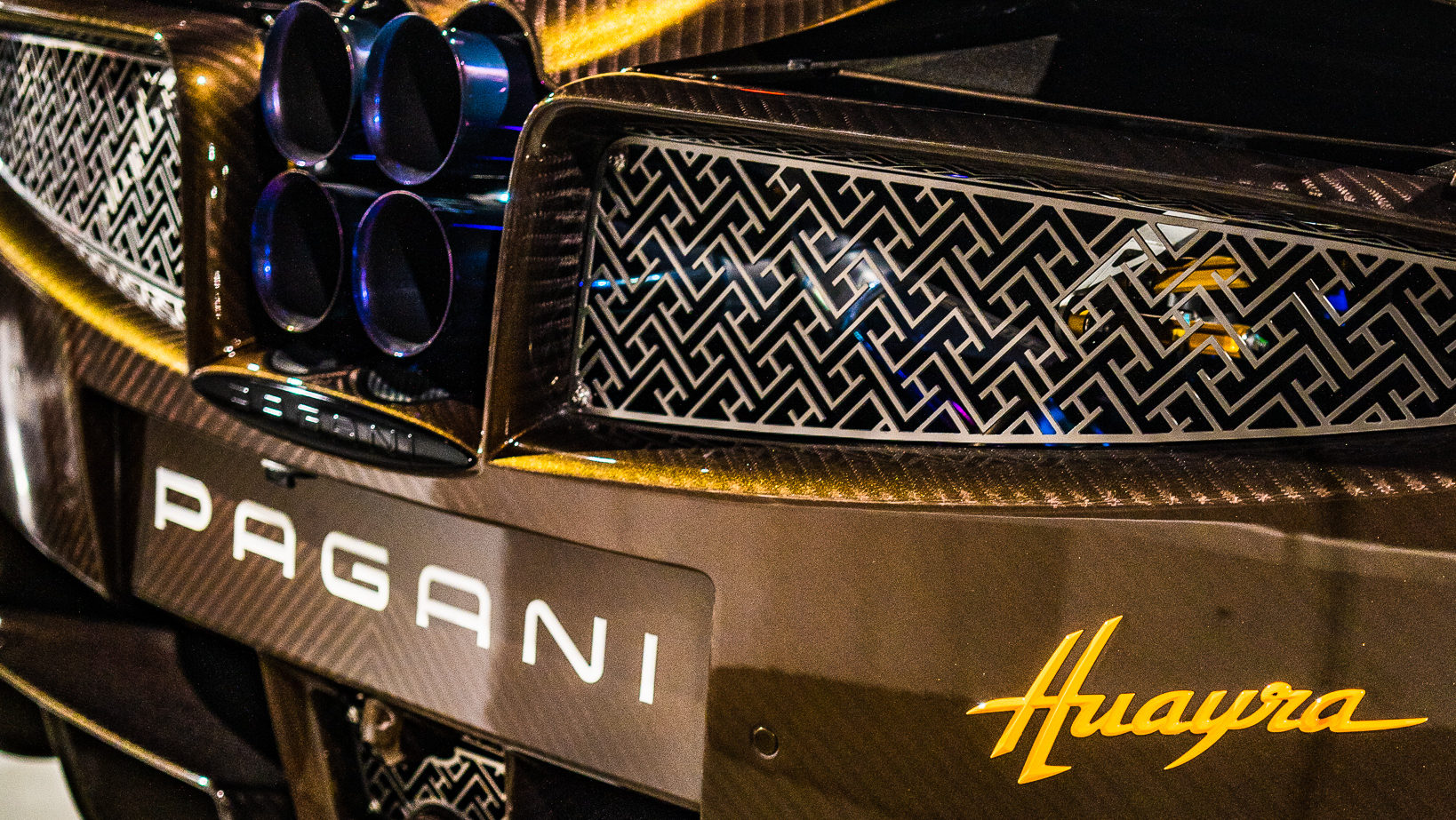 I hope this little article inspires everyone to take an opportunity to visit the Petersen on their own sometime. This amazing car is only just a taste of all they have on display. With a short drive to LA, their ever changing collection of vehicles makes it worth visiting again and again. You can get a membership to visit as often as you'd like or just fork up $17 and spend all day there. Their collection can't be seen anywhere else in the world. Especially their vault collection where no cameras are allowed. An absolute must for any auto enthusiast so what're you waiting for? Stay tuned for the next article when I feature an all carbon fiber, 760hp, 2017 Lamborghini Centenario from their hypercar room.