Vehicle Features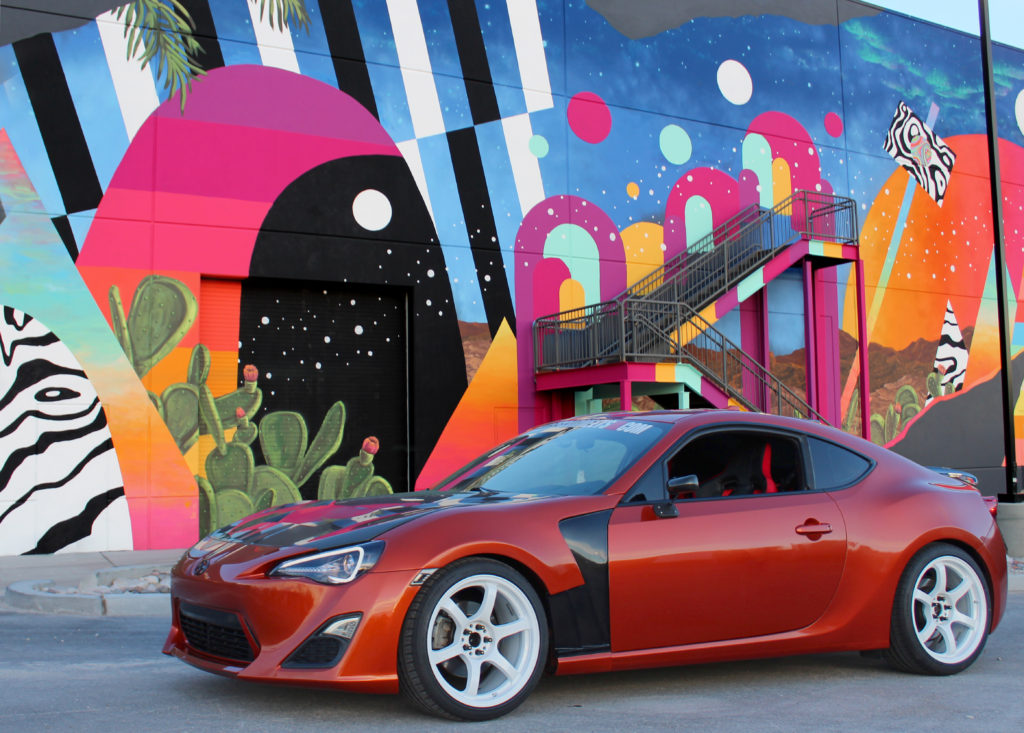 @Creamsiclefrs car build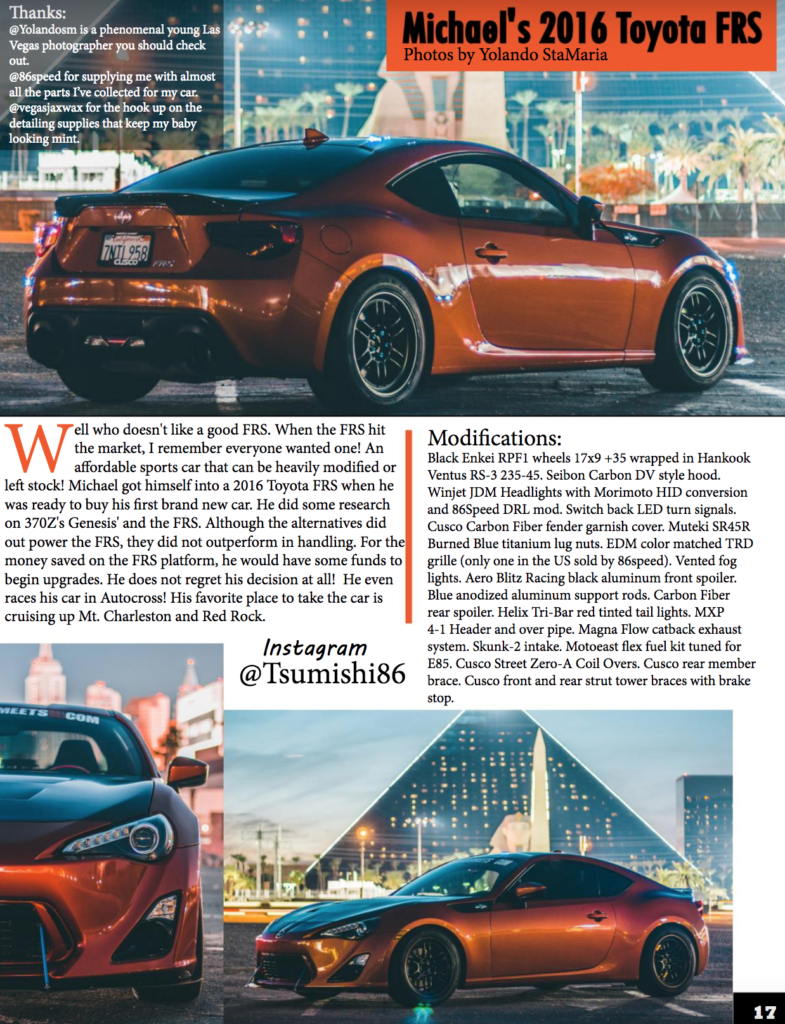 It's been awhile since I did any type of formal update on my 2016 Scion FR-S well known around town as the Las Vegas Car Meets car. First featured in the first issue of Vegas Automotive Magazine back in January 2018 it's come a long way from that list of modifications to an ever longer one today. Over the past two years I did a lot of back tracking on modifications I'd done while upgrading. I'd get bored with a part then replace it with another or ditch a look all together. Like you'll notice the Winjet headlights are now Spec-D. Retired the splitter after losing two to the the terrible quality roads of Las Vegas. And finally switching from bolt on upgrades to a built short block with a turbo kit.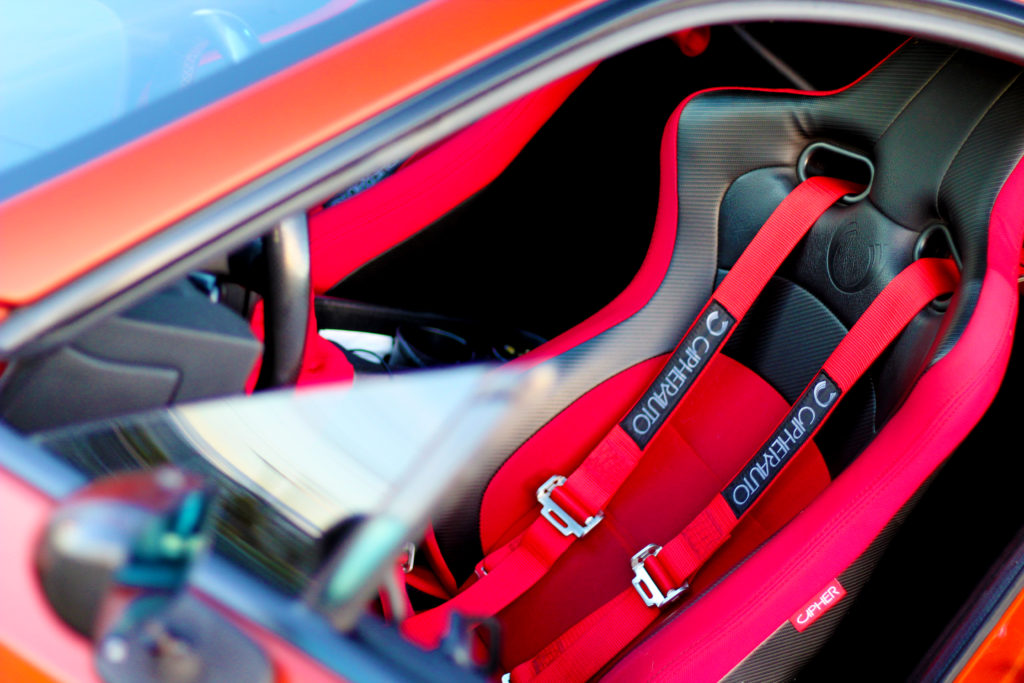 The interior has been all redone. Restyle702 hooked me up with a full Cipher Auto interior with their racing seats, harness bar and 4 point harnesses. MsRabbit custom sewed my shifter boot and e-brake covers to match the seats. I went with the JDM interior trim which changed the cheap silver pieces into equally cheap but nicer looking black and red plastic plus stitched leather dash panels.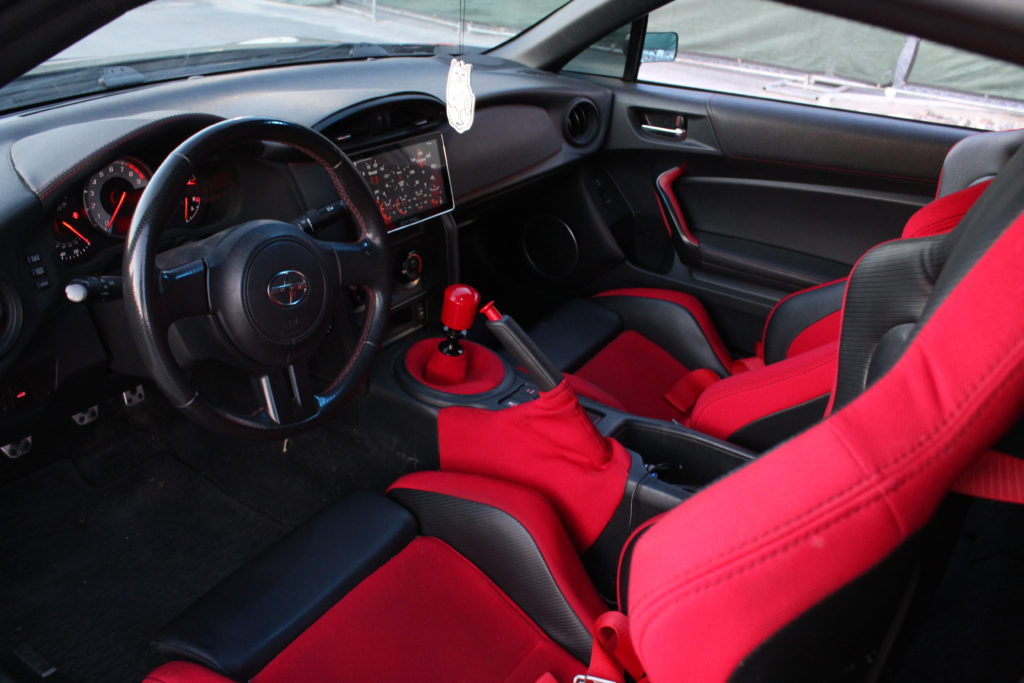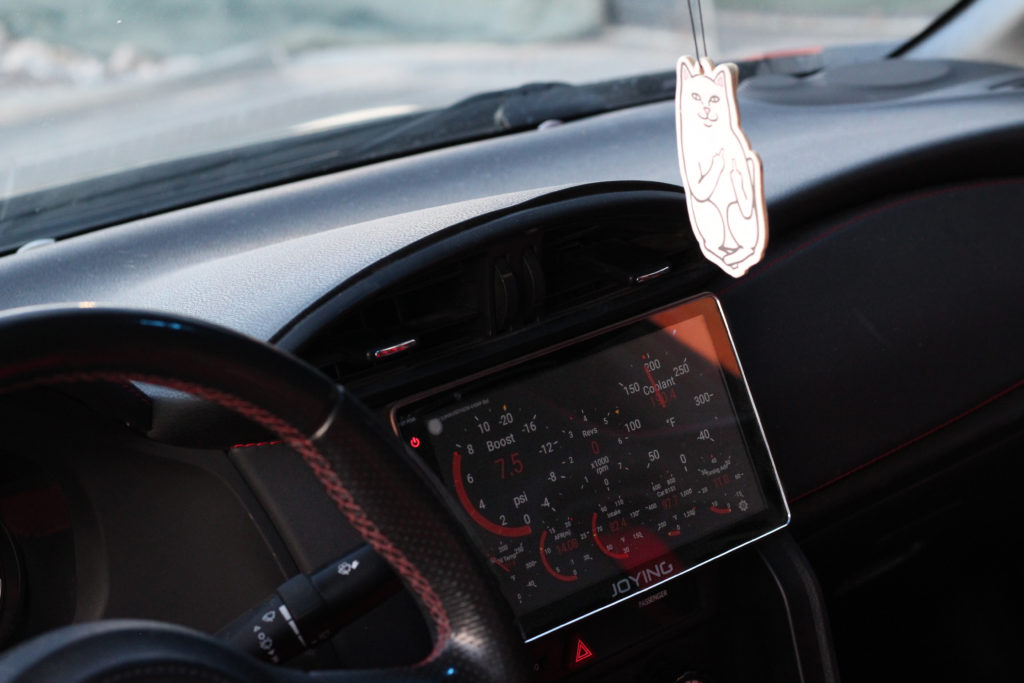 My most asked about part is the Joying head unit people see when they peep their heads in the car at a meet. It's set up like an android device to work with the car flawlessly. I have it synced up to a bluetooth OBD reader that gives me all the live diagnostics on the vehicle including temperatures and boost right on the touch screen.
For a year I didn't touch much on the car. Everything was looking up until we spun a rod bearing around 38k miles. Only 3 years old and under the drive train millage guarantee Findlay Toyota still refused to work on it at all because it had an E85 kit installed. Through a long and futile attempt to get them to repair it under actual laws for warranties they refused to budge so short of suing them I got frustrated enough to say screw it and go for a big build with the help of friends at Kaiju Motorsports and Speed Industry.
Both Kaiju Motorsports and Speed Industry are absolutely reputable for their expertise of the 86 platform. After discussing our options I opted to start with a new built short block from GCH Longblock Racing. They hand assembled a 500hp capable block for me and shipped it out quickly from California. All the extra bits we needed like an upgraded clutch, Verus air oil separator and clutch fork I went to Speed Industry. I decided while we were already going for those sweet sweet gains I wanted to slap on a 500x turbo kit from Speed By Design to get the most out of it. With all the goodies arrived Kaiju put it all together for me. Visconti tuning got the car tuned to run before the break in process could begin and I've been slowly but surely been working towards those 3,000 miles before we can tune it for maximum horsepower. At least with all the mechanics done I could send it to the body shop Autoworx by Street Wise for some aesthetic upgrades.
Autoworx has done some incredible work in the past including a SEMA show featured FR-S so I knew they were the best bet for doing up my paint. They first fixed up a terrible paint job I regrettably got over at Samurai Motors. Autoworx redid my front bumper, repaired a fender bender in the rear and paint matched and fitted my Fly1Motorsports front fenders. Overall the car came out looking so great I became inspired to change up the more and was quickly back at Speed Industry.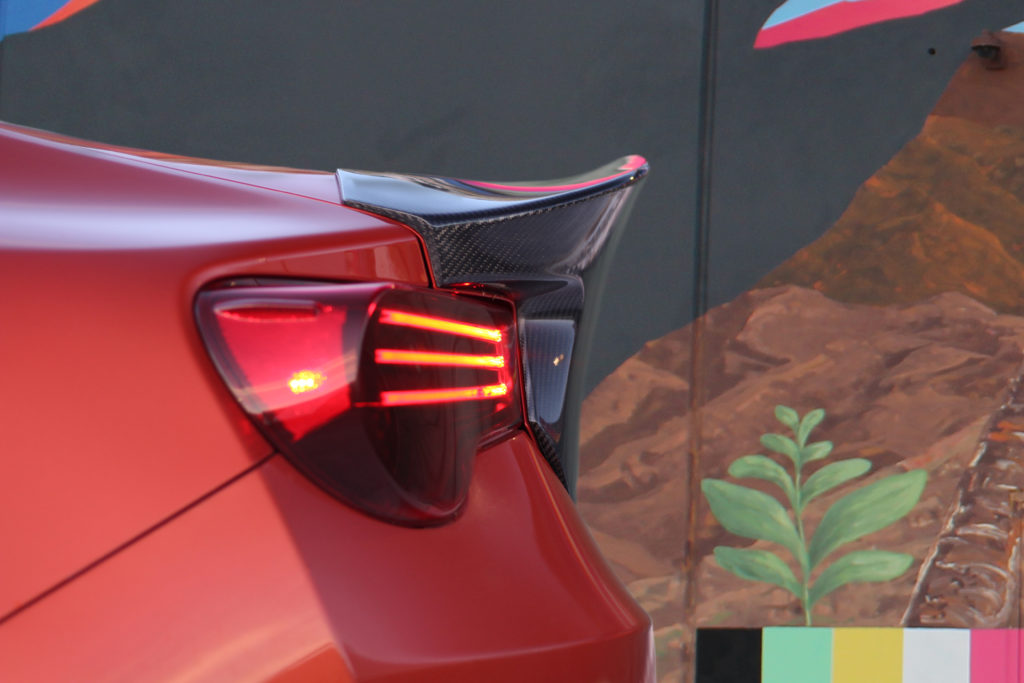 Most recently I grabbed a set of white 57DR wheels. All the way from Sweden Seidoworks sent over their carbon fiber spoiler. I think finally the exterior was done. Under the hood however was fast but not pretty. I did a little dress up with Renegade Motorsports engine caps, Zspec bolts, and Verus air oil separator all in vibrant blue to match the Cusco parts. Finally having touched every aspect of the car I feel I'm nearing completion. Theres just a few small things I still want to do now but I can tell you this has been a pride, joy and anguish to work on and I'm so grateful to everyone who's contributed to this build. Full mods list below and links to all my sponsors!
Modification list:
GCH Longblock Racing built short block
Speed By Design 500x turbo kit
DW 265 fuel pump and 750cc injectors
Fly1Motorsports RS86 carbon fiber front fenders
Southbend Stage 2 clutch
Seidoworks carbon fiber spoiler
Motoeast E85 flex fuel
Cusco Street Zero-A coil overs
Cusco front, rear strut tower bars and rear lower control arms
Seibon Carbon DV hood
Ray's Gram Lights 57DR 18×9.5 +38
APR wheel studs
Muteki lug nuts
Magna Flow exhaust
Shrader Performance rear seat delete kit
Cipher Auto VP-8 racing seats, 4 point harnesses and brace bar
Spec D headlights
JDM market front grille, interior trim and dash panels
HIC rear window spoiler
APR carbon GT3 side mirrors
Joying head unit with live OBD reading via Torque app
Renegade Motorsports engine caps
Verus Air Oil Separator
Racer X Fabrication oil cooler
Helix Tri Bar tail lights
Spec-D headlights
ZSpec design engine bolt dress up
Ms.Rabbit shift boot and e-brake covers
Shift Solutions Co. shift knob, lockout ring and e-brake button
Please show the sponsors some love
Aero Detail Products
Kaiju Motorsports
Speed Industry
Autoworx by Streetwise
Vegas Automotive Magazine